Description
Information on Nintendo Switch Console Neon Extended Battery:
| | |
| --- | --- |
| Brand | NINTENDO |
| | |
| Model Number | NS-NEON-EXT-BTRY |
General
| | |
| --- | --- |
| Colour | Multicolour |
| Console Type | Console |
| Video Encoding/ Version | PAL |
| No of Controllers | x 1 |
| Model | Nintendo Switch |
| HDD Capacity | 32 GB |
| Screen Size | 6.2-inch |
| Bluetooth | Yes |
| Weight (kg) | 88 lbs |
| Dimensions (mm) | 4 x 9.4 x 55 inches |
A CONSOLE FOR HOME AND ON THE GO WITH A BETTER BATTERY LIFE
Nintendo Switch is a breakthrough home video game console. It not only connects to a TV at home, but it also instantly transforms into an on-the-go handheld device with a 6.2-inch screen. For the first time, players can enjoy a full home-console experience anytime, anywhere. With a controller that can split into two, enjoy local multiplayer with a friend easily. The Switch Console boasts a library of amazing, exclusive must have games from Mario Kart 8 Deluxe to The Legend of Zelda Breath of the Wild. The Nintendo Switch also includes both internet and local wireless multiplayer with other devices. This Nintendo Switch has an improved battery life which allows the battery to last between 4.5-9 hours so you can game for even longer.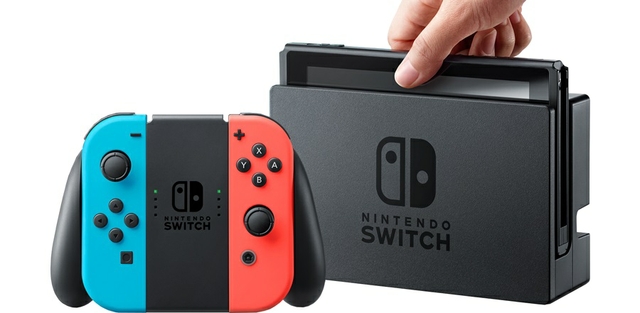 INNOVATIVE MOTION CONTROL TECHNOLOGY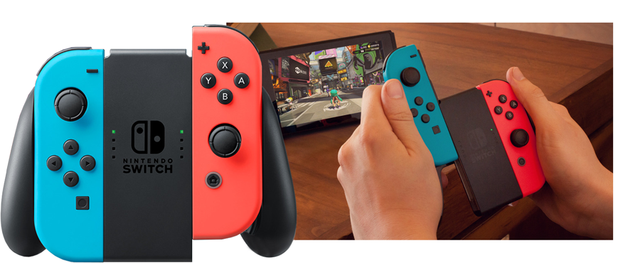 The versatile Joy-Con offers multiple surprising new ways for players to have fun. Two Joy-Cons can be used independently in each hand, or together as one game controller when attached to the Joy-Con grip. They can also attach to the main console for use in handheld mode, or be shared with friends to enjoy two-player action in supported games. Each Joy-Con has a full set of buttons and can act as a standalone controller, and each includes an accelerometer and gyroscope motion sensor, making independent left and right motion control possible.
TV MODE
Hook up the console to the TV and everyone can enjoy playing, from kids to adults. It's a great way to get into the game with family and friends at home.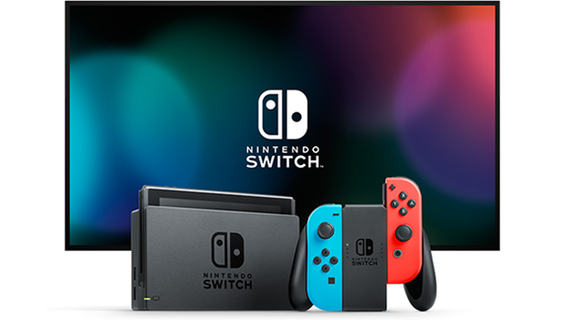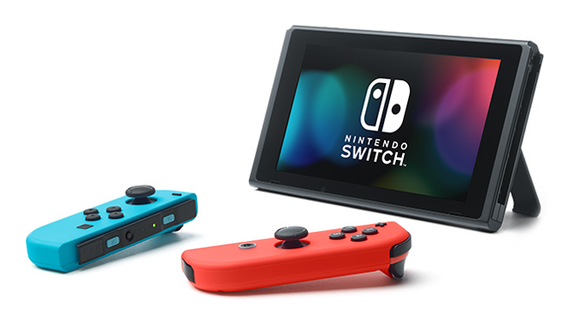 If you don't have access to a TV, prop up the stand attached to the console and hand a Joy-Con to a friend to play co-operative or competitive games right on the console screen.
EASY AND ACCESSIBLE GAMING ANYTIME, ANYWHERE
With a library of amazing titles to choose from, including fan-favourites from Mario, The Legend of Zelda and Splatoon series, that can include online play and more, they are a must-have for every member of the family. Perfect for players of all ages and experience levels. The Nintendo Switch makes gaming easy and accessible. Anytime, anywhere with anyone!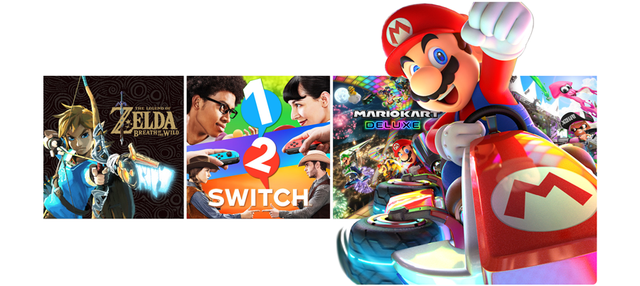 UP TO 8 CONSOLES CAN CONNECT FOR MULTIPLAYER FUN

Nintendo Switch makes it easy for players to stay connected. Up to 8 consoles can be connected for local wireless play. By placing the console upright using the built-in kickstand, players can independently use the left and right Joy-Con controllers to experience multiplayer fun anywhere. The console will support online Wi-Fi multiplayer gaming. Nintendo also unveiled a new online subscription service. The service includes a smart-device application available that will let users invite friends to play online, set play appointments, and chat with one another as the play compatible games.
Payment & Security
Liquid error (sections/product-template line 691): Could not find asset snippets/allinone.liquid