Description
Control Temperature from Smart Devices
2.1" (480 x 480) LCD Display
Built-In 802.11b/g/n Wi-Fi Connectivity
Compatible with Most HVAC Systems
Auto-Schedule Self-Programming
Automatically Adapts to Season Change
Smart Energy Monitoring
Built-In Rechargeable Battery
Wall-Mountable Design.
The Brighter Way to Save Energy
Meet the 3rd gen Nest Learning Thermostat. It's slimmer and sleeker with a bigger, sharper display. And it saves energy. That's the most beautiful part. It learns what temperature you like and builds a schedule around yours. And independent studies showed that it saved people an average of 10-12% on heating bills and 15% on cooling bills. Now the Nest Thermostat does something new. It's called Farsight and it lights up to show you the temperature you've set or the time. You can even choose a digital or analog clock face. Farsight is big and bright on the beautiful display – you can see it from across the room
Your Life with Nest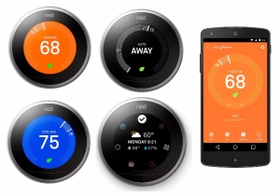 The NEst Learning Thermostat automatically adapts as your life and seasons change. Just use it for a week and it programs itself. Just pop off your old thermostat and install your new Nest. It should take about half an hour. Now turn up the temperature and get comfortable. You turn down the heat on your way to bed. Nest takes note and starts building your schedule. Cozy in the afternoon, cool at night. After you turned up the heat a few days in a row, Nest learned you like eating breakfast at 70º. So now it warms up the house as you get out of bed. You need to get to work early today and rush out the door. With Auto-Away, Nest turns itself down to save energy. The babysitter calls to say she picked up the kids from soccer and they're heading home. You adjust the temperature from your phone so they'll be cozy
Follow the Leaf
Change the temperature to save energy and you'll be rewarded with a Leaf. The Leaf learns how to help you save, so it appears at different temperatures for different families. Nest shows you how much energy you use every day in Energy History and every month in your Home Report. So you can see when you use more energy, like on weekends or Monday nights, and how to use less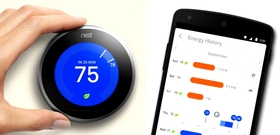 Know Your Home is Safe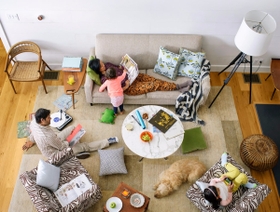 The Nest Thermostat is just one part of your heating and cooling system. But it can keep an eye on the rest of it. You'll get an alert on your phone if there's something wrong – like temperatures are so low your pipes could burst. And if it looks like your furnace is acting up, the Nest Thermostat will send you an alert.
Payment & Security
Liquid error (sections/product-template line 691): Could not find asset snippets/allinone.liquid